5 Star Service,
Our Customer
Say It!
"Great experience. Everything was explained in detail. Lots to take in but helped every step of the way. I can feel the results of my workout already! Looking forward to my next session. I would definitely recommend. The pt's are really friendly, helpful and supportive."
"Another great session from chia, pushed us perfectly, always reassuring. Listens to your needs and just pushes us that bit more. She sets you at ease with any concerns. Always happy when I know the session is going to be with her. Keep up the great work Chia"
"With FEEL ELECTRIC, I would not be surprised if the EMS training does become VIRAL. It's a high impact training for less time, with the busy schedule of every individual becoming even more so, it's a sure fire way to get fit and still maintain one's busy schedule. I gladly recommend this to anyone, however I'm sure over time management will look into ways to mitigate the pricing in line with the current cost of living crises nationwide."
"Brilliant EMS experience My personal trainer today was AMAZING! She pushed me to keep going, really enthusiastic and so so knowledgeable about the equipment and outcomes. Answered all my questions with such professionalism and knowledge. I was nervous before coming and she made me feel at ease. Warmed me into it but really managed to bring my confidence out and encourage me to give it my all!! I can't wait to sign up!! Thank you"
Really impressed I'm really impressed with everything about Feel Electric. The staff are so lovely and I have every confidence in "Liam. Great session and I'm looking forward to seeing where I am t the end of the 13 weeks. Fingers crossed it helps my back problems as well as getting my muscle tone back. Definitely recommend."

Free to Members:
InBody 770 Ultimate Body Analyser
The InBody 770 is the most advanced full body analyser available in the fitness industry today. Feel Electric EMS now provides this enhanced level of body MOT
analysis so you have the information about your body. Book a free EMS Trial and for a limited time get a Free InBody 770 test worth £50 online.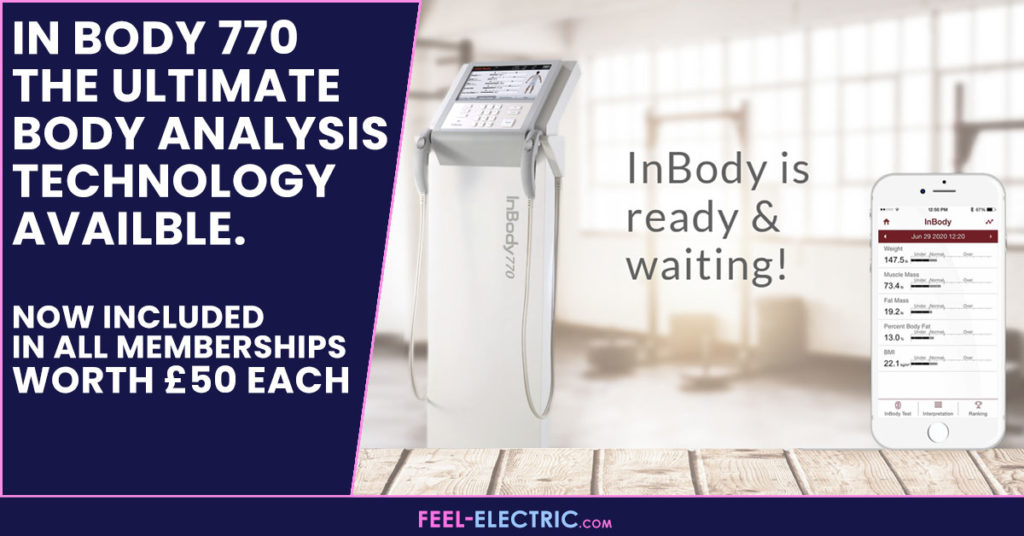 Begin your fitness journey or boost your workout results with one 20-minute EMS session a week at our Harrogate or Leeds Feel Electric fitness studios. Just 20 minutes of Electro Muscle Stimulation will help you achieve similar results to a 2-hour HIIT (high intensity impact training) session.
Feel Electric EMS is a time saving fitness program for all body shapes and sizes with proven fat burning properties powered by Miha bodytec technology, so you achieve the fitness results you've been looking for quicker.
No obligation to join, Just experience the fastest way to: Get fit, Lose weight and Relieve Back Pain with EMS Training.