Sports Injury Back Treatment EMS Rehabilitation
Sports Injury Back Treatment
Playing sports is a terrific way to stay fit and healthy but unfortunately you do also risk hurting yourself and that can include painful back sports injuries. When you have a back injury from sports you can count on Feel Electric EMS physical therapy to get you back in the game quicker than any conventional workouts. Whether you're an elite athlete or a weekend warrior common sports injuries will respond better to EMS physical therapy technology. 
Deal with the pain in your lower back or neck more effectively and rehabilitate more efficiently through Electro Muscular Stimulation training. At Feel Electric sports injury rehab clinics, you'll still be able to work out safely with EMS training even when you're suffering from a long-term back sports injury. Our EMS sports back injury treatment is a low impact physio session that activates over 90% of your muscle groups but without straining muscles or joints. 
Physiotherapists, osteopaths, and chiropractors have deployed EMS physio technology for decades in their back sports injury rehabilitation programmes. Whether you've injured your back from playing football or golf, from cycling, running, swimming, skiing or on the tennis court, give yourself a recovery and wellbeing boost by trying EMS training at Feel Electric sports injury clinic.
Deal with Every Type of Back Sports Injuries
EMS is highly effective at providing physical therapy for the back sports injury that you're suffering from. Feel Electric's sports back invigoration training complements recovery work from physical therapists like osteopaths, chiropractors and sports physiotherapists. That's why Electro Muscular Stimulation treatment has been used for decades by physios at elite sporting teams like Bayern Munich football club. Feel Electric EMS rehabilitation sessions are ideal for common sports-related back injuries like: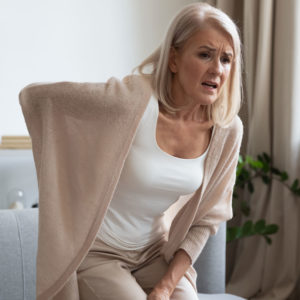 Lower Back Sports Injury: 
The lower back can be put under great strain when playing many different sports particularly sports that use a twisting motion like golf, which use weight loading like weightlifting or include repetitive impacts such as running.
Those type of sports can cause considerable damage to the lower back leading to slipped discs, sciatica, spinal compression fractures and lumbar joint pain. Unless dealt with by physio treatments like EMS back rehabilitation training, this sort of back sports injury can trigger acute back pain.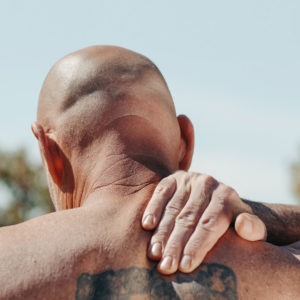 Upper Back Sports Injury: While you are less likely to suffer a sporting injury in the upper back, health and fitness activities like weight training, golf, swimming and tennis can still cause painful upper back sports injuries. 
Rib fracture and intercostal neuralgia as well as intercostal muscle strain are the most common types of sports injuries in your upper back. Working with our EMS physical therapy trainers however will accelerate your return to full health and wellbeing no matter where the sports injury is in your back.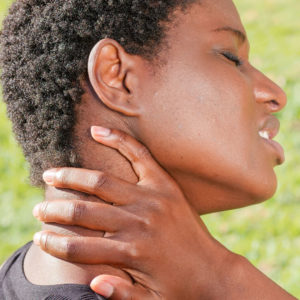 Neck Sports Injury: 
If you play a contact game like rugby or football, you are risking sports injury in your neck as well as your back. Typically, cervical spine damage like numbness or tingling in the shoulder, often called 'stingers', can result from these kinds of sports. 
Rehabbing neck sports injuries is more effective and time-efficient with the low impact treatment that Feel Electric EMS rehabilitation clinics provide.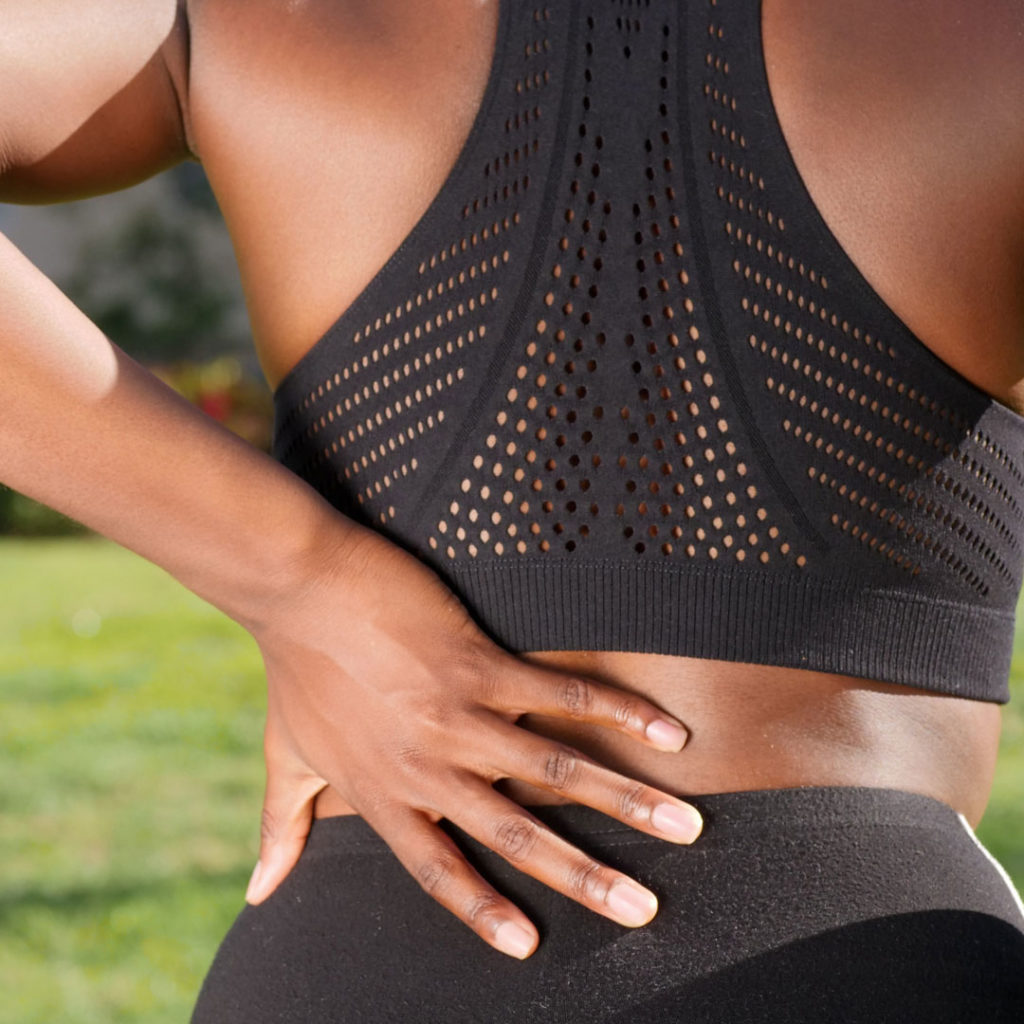 Faster Recovery from Back Sports Injury
Conventional exercise at the gym can be almost impossible for sports injury physical therapy. Recovering from the most common sports injuries is faster with Feel Electric EMS physiotherapy training. You can take an active part in your recovery from a sporting back injury.
Due to its low impact nature and as it only takes 20 minutes to pack in the equivalent of a 2-hour HIIT session, you can work out safely and effectively at a Feel Electric sports injury physical therapy clinic. Your existing back muscles won't waste away due to lack of activity and you'll add lean muscle even while you're recovering from a sports injury in your back. 
Our EMS physio programmes invigorate your back without putting any unnecessary strain on your back muscles and joints. EMS training at Feel Electric clinics provides back sports injury treatment that delivers a healthier and stronger back quickly and safely.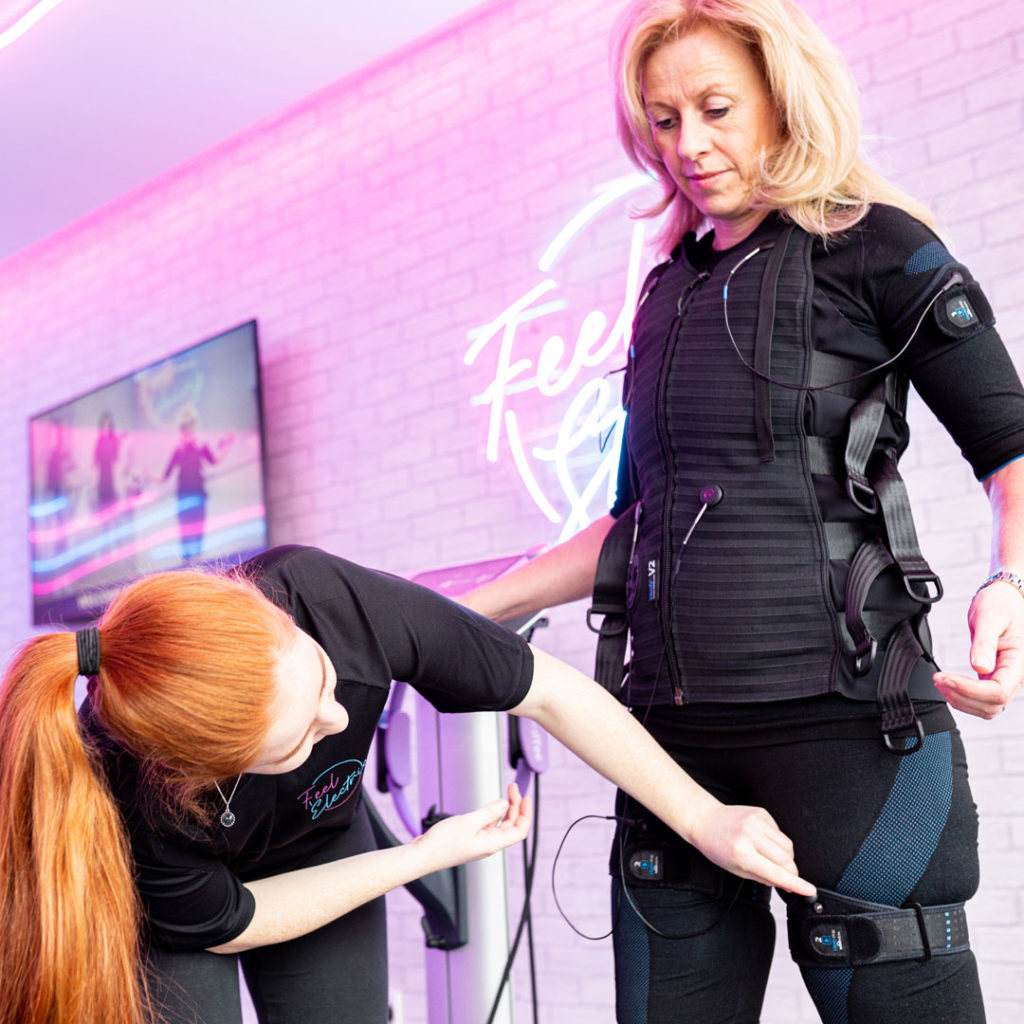 Prevent Sports Injuries in Your Back
Not only will you recover quicker with EMS back sports injury physical therapy but you'll also strengthen the muscles in your lower back and surrounding areas to prevent further injury when playing games. 
Feel Electric's EMS back sports injury prevention sessions will build up the muscles in your lower back as well as important connected areas for back strength like the glutes. 
With Electro Muscle Stimulation sports injury rehab sessions at a Feel Electric clinic, you won't put any further strain on your back joints, tendons or ligaments. But you will strengthen your lumbar, upper back, and neck to prevent dreaded back pain from sports injuries. 
That type of EMS physical therapy will allow you to step on the sporting field stronger and help prevent common sports injuries when you're back on the pitch.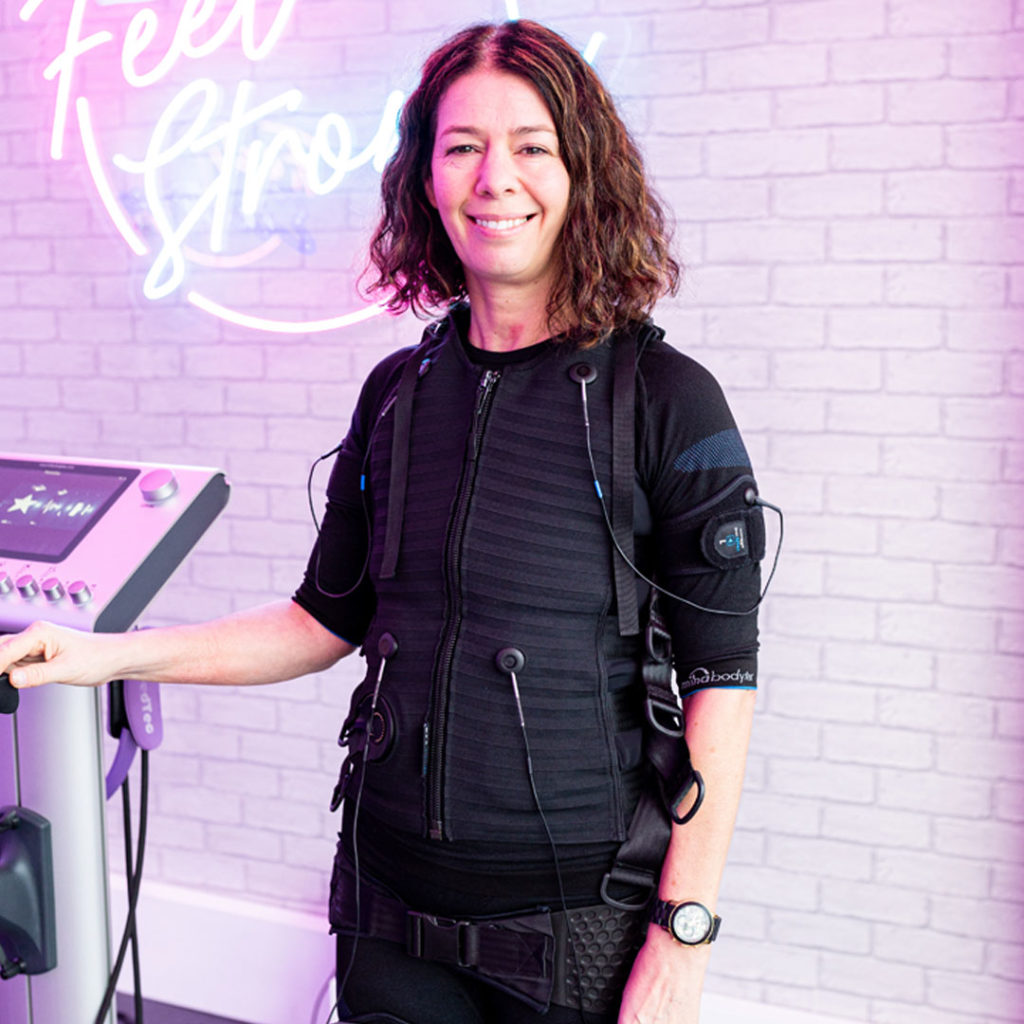 EMS Sports Injury Treatment
Feel Electric physical therapy trainers will design focused EMS exercises to rehab your sporting back injury. Our specially created back sports injury treatment programmes are tailored to improve your muscle function and strength while relieving back and joint pain and increasing your mobility. 
Expert EMS sports injury trainers will provide fun sessions in Feel Electric clinics that push you just as much as your back will allow so you recover your health quicker. 
The sports back injury sessions at our EMS physical therapy clinics will get you back on the golf course or tennis court faster than any traditional exercise.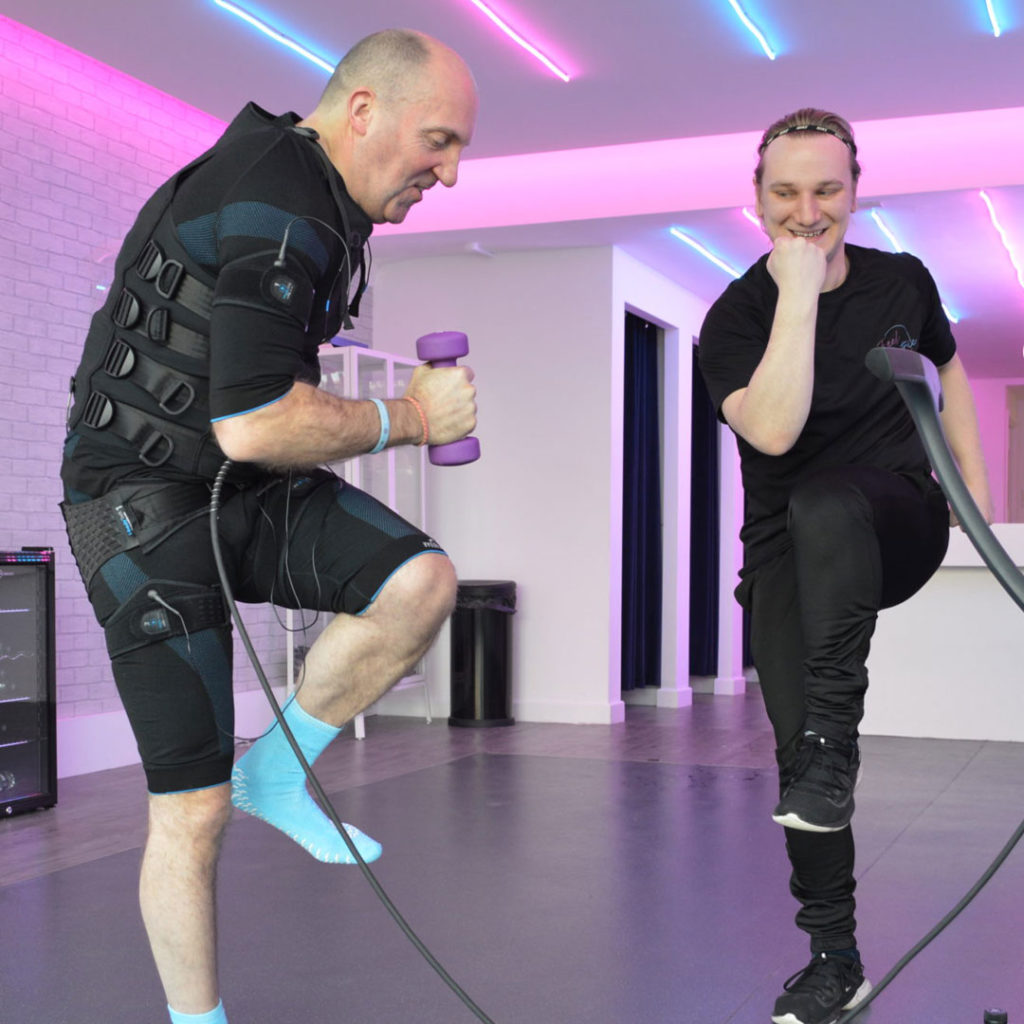 Healthier Weight Recovering Sports Back Injury
If you're suffering from a sports back injury and finding it difficult to exercise, it's not easy to stay at your preferred weight. An extended period of activity due to a sporting back injury can in fact add considerable unwanted fat.
 Thankfully Feel Electric EMS physio training is ideal for weight loss, burning up to 500 calories per session. That means you avoid any extra strain on your back and stay at a healthy weight for your fit body even while suffering from a sport injury. 
Keep unwanted weight off while you're rehabilitating with Feel Electric EMS sports injury treatment.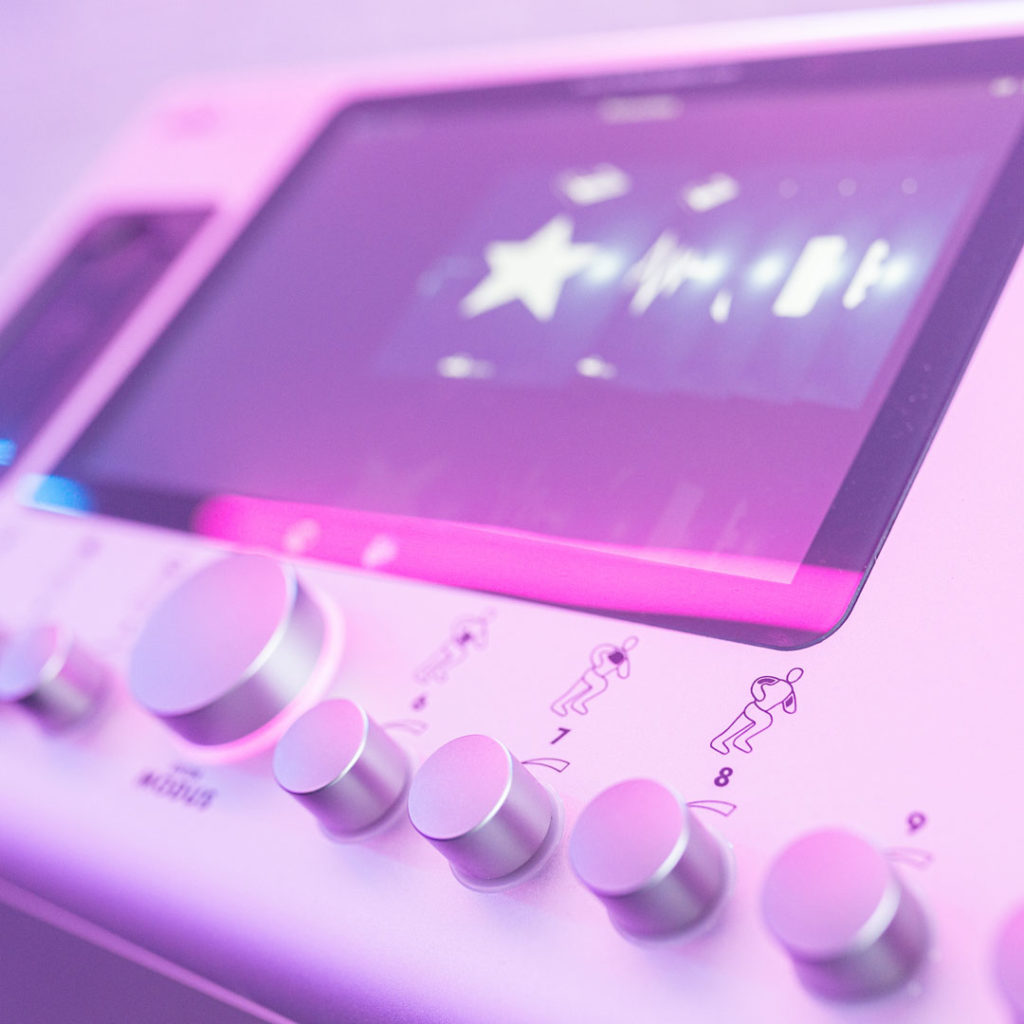 Healthier Weight Recovering Sports Back Injury
Treatment for a sports back injury is simply easier when you're working out at a Feel Electric physical therapy clinic. Our back invigoration sessions will rehabilitate your back injury without putting any extra strain on your musculature or joints. 
You'll regain confidence in your back strength through our sports injury rehab training and add more lean muscles to help prevent any future back sporting injuries. 
Our dedicated EMS physio trainers will be on hand throughout your rehabilitation journey to encourage and inspire you whenever you need sports injury help. Try a Feel Electric EMS sporting injury treatment session today and you'll start to build back better.
Physical Therapy EMS Treatments
Are looking for a replacement or complementary physical therapy treatment to existing Physio, Chiro or Osteopath treatments try Feel Electric EMS. We offer a no obligation 1-2-1 Free Trial with a healthcare professional with the aim to support your health aims and goals. Try an EMS health treatment today, book online for free to begin your consultation.
EMS Rehabilitation Treatment
If you've hurt your back playing sports think EMS physio rehabilitation. Electrical Muscle Stimulation technology has been used by sports physios to treat athletes for many years as it puts little strain on your body and allows safe workouts even when you're suffering from a back sports injury.
EMS Sporting Injury Treatment
If you've hurt your back playing sports think EMS physio rehabilitation. Electrical Muscle Stimulation technology has been used by sports physios to treat athletes for many years as it puts little strain on your body and allows safe workouts even when you're suffering from a back sports injury.