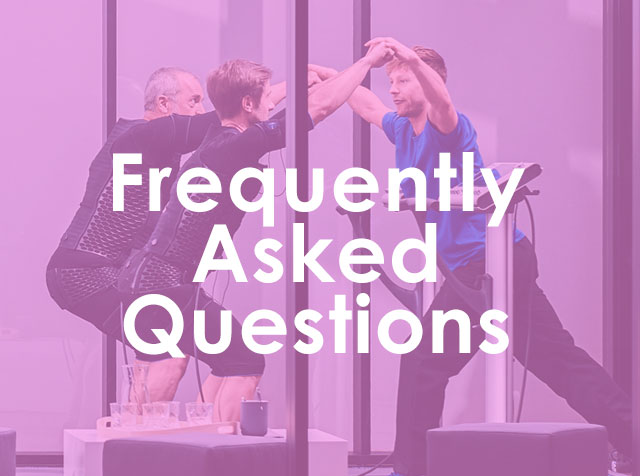 EMS Frequently Asked Questions
FAQs About EMS at Feel Electric
Here at Feel Electric, we want to answer any questions you might have about our EMS Training. Firm, tone, lose weight and energize your body using the best of cosmetic and fitness techniques with Feel Electric's EMS training.
EMS training at Feel Electric will transform your fitness faster than any conventional workouts and in just 20 minutes a week. An all-over low-impact EMS fitness session powered by the latest bodytec equipment will activate 90% of your muscles simultaneously to fire up your metabolism and help you sculpt your body shape. You'll find our EMS-related FAQ below to help answer any questions you might have.
How does Feel Electric EMS training work?
The Feel Electric EMS device harnesses your body's own bioelectronics to stimulate multiple muscle groups, simultaneously activating up to 90% of your muscles. With EMS training you experience more intense muscle contractions and reach more deep-lying muscle groups than a normal workout which leads to better muscle balance and improved core stability. Our expert EMS trainers at Feel Electric will work with you 1-2-1 and use the eight channels on the EMS device to customize your workout according to your fitness goals and body needs.
Why is Feel Electric EMS the Best in the UK?
Feel Electric specialises in EMS workouts; it's our only focus and we only allow highly-trained EMS experts to work with our clients. When you are in a Feel Electric EMS studio, you will work on a 1-1 or 1-2 basis, so you get individual specialised attention to maximise every training session. Our expertise in Electro-Muscular Stimulation allows our personal trainers to choose the most effective programme on the EMS device for your fitness and weight loss targets.
Why do you only offer EMS training for 20 minutes once a week?
The intensity of Feel Electric EMS training is so effective that you only need one session per week to achieve fantastic results. The amount of muscles being contracted in every EMS workout means you need longer to rest and recover than conventional weight and resistance training. Don't worry though, you are not missing out. At Feel Electric just 20 minutes of EMS training will achieve just as impressive a result as a 2-hour HIIT (high intensity impact training) session.
How soon will I see results at Feel Electric EMS?
You will feel a difference in your energy straight after your first EMS training session at Feel Electric. Normally you will feel some muscle stiffness a couple of days afterwards. However, within 4-6 weeks you will feel stronger and leaner as your muscles build and your body firms and tones thanks to the effectiveness of Feel Electric EMS training. Like all other workouts, optimal results will be ensured by consistently taking part in an EMS training session.
What specific improvements could I see from training with Feel Electric?
EMS training has been part of an extensive amount of academic research to validate its effectiveness so you can expect considerable improvements in the following areas:
Maximum strength
Hypertrophy (muscle growth)
Strength endurance
Speed, responsiveness, and agility
Body firming and toning
Improvement in muscular imbalances (e.g. better posture, back pain relief)
Is Feel Electric EMS training safe?
Yes! EMS training has been an effective fitness tool for many years in fitness therapy and rehabilitation as well as in sports medicine for top level athletes and there have been many scientific studies to back that up. Academic studies by the Universities of Bayreuth (2002–2003) and Erlangen-Nürnberg (2009), the German Sport University Cologne (2008) and the Bad Oeynhausen Heart Clinic (2010) for example have all underlined the fantastic efficiency of EMS training.
Can anyone do EMS training at Feel Electric Studios?
The low-impact nature of Feel Electric EMS training means you don't have to be an athlete to benefit from its scientific effectiveness. No matter your fitness level or body shape you can achieve visible results in firming and toning your body in a short period of time even if you have not been physically active for years. However, certain medical conditions are known to be contraindications and EMS training with Feel Electric is not recommended for some medical conditions such as a pacemaker or other electrical implants. When booking your first free EMS training session, you'll fill in a health questionnaire that will help to ensure that we provide the best level of care should you have any medical condition which could be affected by EMS training.
How does Feel Electric choose its EMS trainers?
We provide you with Feel Electric personal trainers that are experienced professionals and highly trained in EMS-specific fitness techniques. All of our trainers will be qualified and educated fully in EMS techniques, will be aware of the latest technical developments in the field of EMS and have used the most effective bodytec equipment before they get to work with any of our clients. At Feel Electric you have every right to expect the best EMS training experience and that starts with the expertise of our personal trainers.
What do I wear to an EMS training session?
You don't have to worry about bringing a heavy gym bag to a Feel Electric EMS session. At your first EMS workout we will provide you with the specially designed Feel Electric kit that is required for each session. Sign up for more EMS sessions with Feel Electric and you can purchase your own set or use our laundry service that provides a set of garments and a towel for each session. You can wear clean trainers or sticky socks if you prefer.
Can I train with a partner?
Yes. Each EMS training session can accommodate two people, each person is 2 meters apart allowing the best experience of our Feel Electric workouts.
You can choose to train with a family member or friend too, just let our team know in advance or at the time of booking online.
Can you do EMS training long term?
Yes. As EMS training is completely safe, there is no problem in continuing over a longer period. In fact, the best way to achieve the fitness and body shape goals that you are targeting is to continue EMS training over the longer term. Just like working out in the gym, if you stop for any length of time, you will lose your muscle and fitness gains.
Feel Inspired by Feel Electric EMS
If just one 20-minute EMS session a week at Feel Electric studios equals a 2-hour HIIT session, what are you waiting for? There's only one way to feel the true power of EMS training and that's to try it for yourself! Book a Free EMS Trial Online to Tone, Firm and Lose Weight with EMS Training.