EMS Injury Rehabilitation
When you're recovering from an injury, it can sometimes feel impossible to find low impact exercises that help you recover but don't aggravate your injury. With Feel Electric EMS however you can get back into exercise safely using the latest Electro Muscle Stimulation equipment from bodytec. At our Feel Electric studios, we will help you to rehab quickly and safely after an injury. 
Our expert Feel EMS trainers will work with you to strengthen any affected muscles and accelerate the injury recovery process without risking muscle or joint strain. Scientific studies have shown that low impact EMS training can also help rehabilitation after surgery and even aid recovery after nerve injury. Speed up your rehab and return to your normal life quicker with Feel Electric EMS.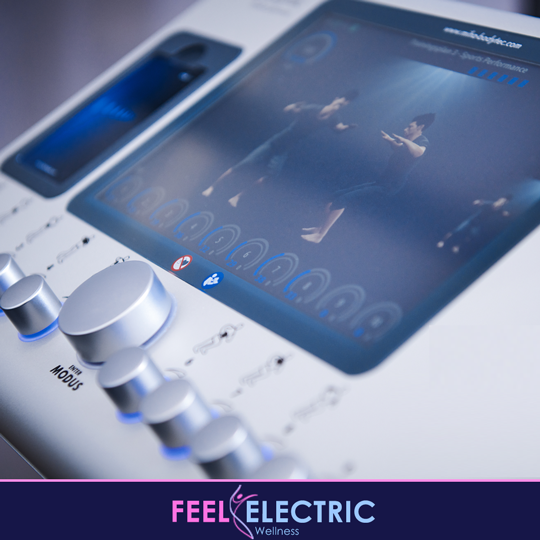 Latest EMS Technology to Recover Faster
EMS technology has been used for decades by physios in general practice and by physiotherapists at the highest level of sports. Why? Electro Muscle Stimulation is the most effective way to target specific muscle groups without worsening your injury. When you're not able to try conventional exercise, Feel Electric EMS bodytec technology offers a low impact method of rebuilding strength and stimulating inactive muscles to reduce your recovery time efficiently and safely.
Our EMS devices allow our certified trainers to focus in on your injured muscles to provide more targeted pain relief, so you don't add bad posture to your injury problems. EMS also promotes blood circulation which aids in nutrient transfer through the muscles to accelerate the recovery process even more. You'll even be able to correct any muscle imbalances as EMS training can target and help strengthen your weakest muscles all thanks to the industry-leading technology used by Feel Electric EMS studios.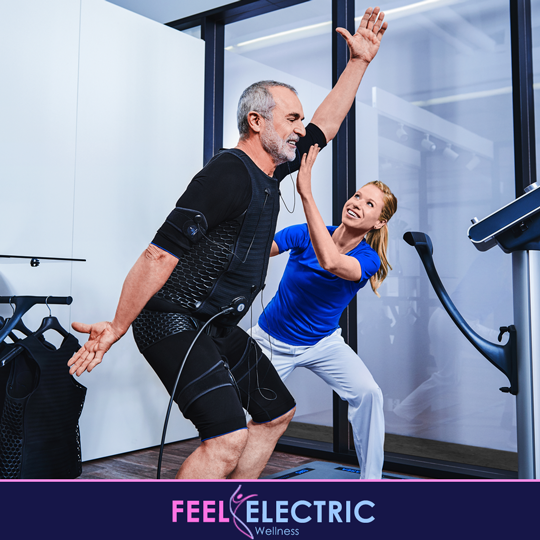 Rehab Your Back Injury with Focused EMS Training
Rehabbing your back after a back operation or when you're suffering from long-term, bad posture or back stiffness is a tough task. But you can rely on Feel Electric to make you and your back feel better quicker. Whether your lower back, middle or upper back is the source of the pain or you have disc cartilage degeneration, our Electro Muscle Stimulation can focus on the deeper muscle layers to strengthen weak and injured back muscles without putting any strain on your body.
No matter your fitness level or age, our expert Feel Electric trainers can harness the power of EMS to target the injured muscles in your back. EMS training also strengthens supporting muscles in your glutes and core to buttress your back and help prevent future back injuries. If you suffer from scoliosis or are in agony from a slipped or herniated disc, EMS training at Feel Electric can provide you with the back pain rehab and relief you need.
Faster Knee Injury Rehabilitation with EMS
At Feel Electric studios you can really step up your knee rehabilitation. Whether you're recovering from ACL injuries, a knee cartilage injury or rehabbing after knee replacement surgery you'll find the regenerative powers of EMS training a huge pain relief. With Electro Muscle Stimulation you won't put any strain on any knee joints, tendons, or ligaments. Instead with the help of our highly qualified personal EMS trainers you'll strengthen the muscles that will aid your knee injury recovery.
Regain the strength of the muscles surrounding the knee joint and stabilizers and recover your mobility and flexibility through targeted low impact EMS exercises. Soon you'll be back walking, playing football or just putting your feet up with a full range of knee movement and without the knee pain you were experiencing.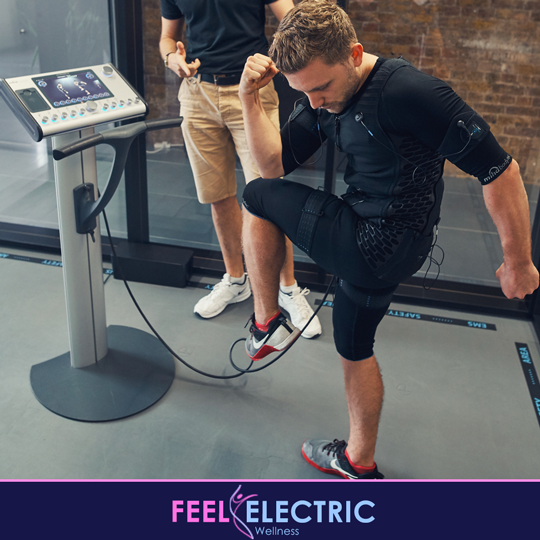 Rehab Your Leg Muscles with EMS Fitness
It's not just the knee where EMS training is really useful in the rehabilitation process. If you are recovering from a leg injury or suffering from any leg pain, Feel Electric's targeted EMS training will help you recover faster. Exercising after a leg operation or a leg injury can feel impossible at first but with EMS workouts you can rehab your leg without putting any strain on your joints and without causing any additional pain.
EMS can provide an improvement in your balance by building up the stabilizing muscles in your legs and also help to normalise leg muscle imbalances. Regain confidence in your leg strength with the help of 1-1 personal EMS training at Feel Electric and speed up your leg injury rehabilitation with just 20 minutes of Electro Muscle Stimulation a week.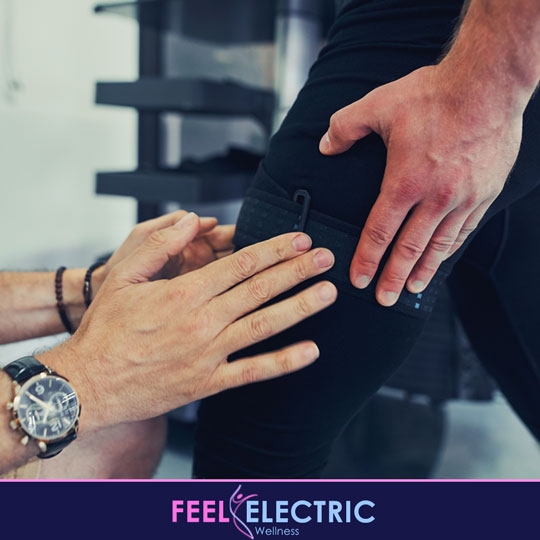 Let EMS Shoulder the Burden of Your Injury Rehab
You might be recovering from a rotator cuff tear in your shoulder and despairing of getting back to any real fitness work. But don't worry, with Feel Electric EMS you'll be able to work out without putting any additional strain on your shoulder muscles. Recovery from shoulder injuries or rehabilitation from a shoulder operation can be accelerated with EMS training.
Electro Muscle Stimulation at Feel Electric can stop your muscles weakening while your shoulder is recovering. You won't be alone on your shoulder rehab journey either. Our expert EMS trainers will be there to help you target the most important shoulder muscles, so you and your shoulder recover quicker.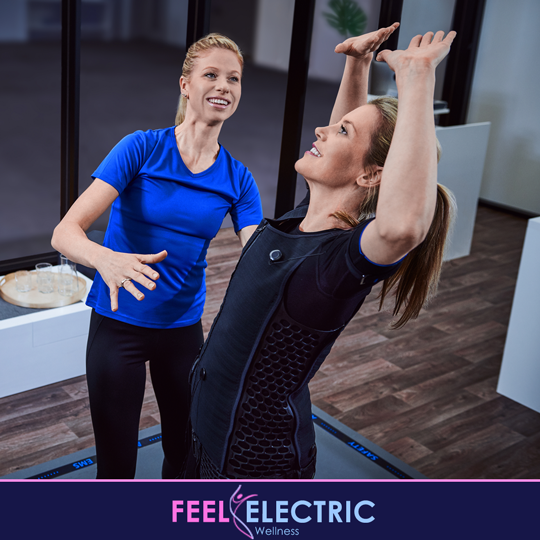 A Top Class Rehab Tool for Every Fitness Level
As a rehabilitation tool EMS training has been a part of professional sport for many years. EMS workouts are now also used by athletes of the calibre of Usain Bolt, boxers like David Haye, footballers like Ronaldo and Ryan Bertrand and football teams like Bayern Munch to improve speed, power, and overall strength. But you don't have to be a professional athlete to avail of the benefits of an EMS session.
At Feel Electric studios our members use EMS training as a tool to rehabilitate from all sorts of injuries, to alleviate body pain particularly back pain and even to build up their pelvic muscles while they recover from giving birth. Whatever rehabilitation needs you have, the advanced technology of our EMS devices and the expertise of our certified EMS trainers can accelerate your recovery.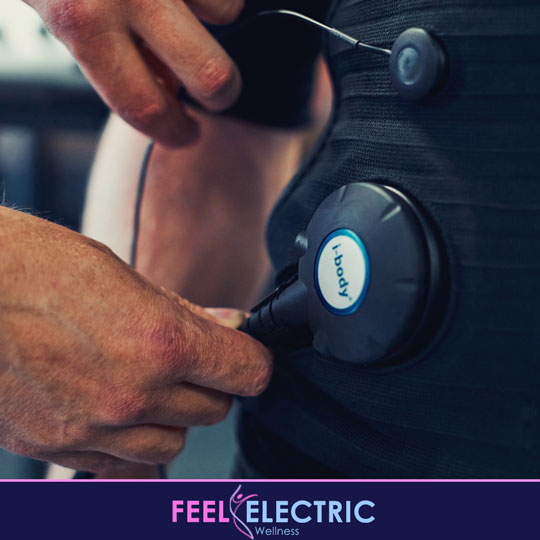 Faster Injury Rehabilitation from Feel Electric
At Feel Electric studios you'll speed up your injury rehabilitation whether you're recovering from knee, leg, hip, shoulder, or back problems. Underpinned by multiple scientific studies and decades of use as an injury rehab tool, Feel Electric EMS training will deliver the rehabilitation results you want quicker and more efficiently.
Benefit from pain reduction as you ease your way back into exercise with a low impact EMS workout that works on your muscles directly without causing you any further pain. Boost your rehab today by signing up to a free trial with Feel Electric EMS studios and begin to feel fitter faster.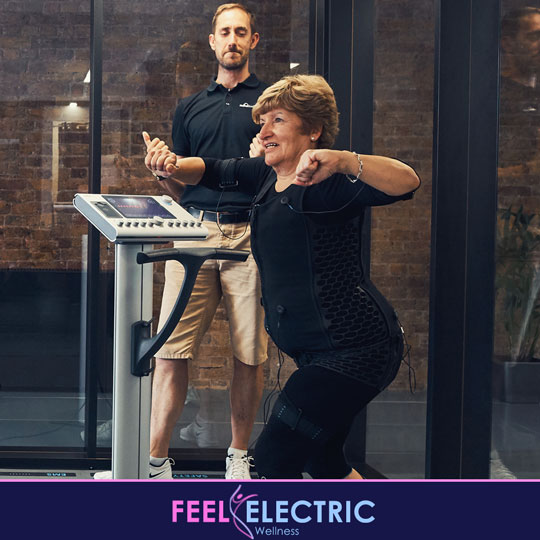 Feel Inspired by Feel Electric EMS
If just one 20-minute EMS session a week at Feel Electric studios equals a 2-hour HIIT session, what are you waiting for? There's only one way to feel the true power of EMS training and that's to try it for yourself! Book a Free EMS Trial Online to Tone, Firm and Lose Weight with EMS Training.