Physiotherapy Alternative

Try EMS Training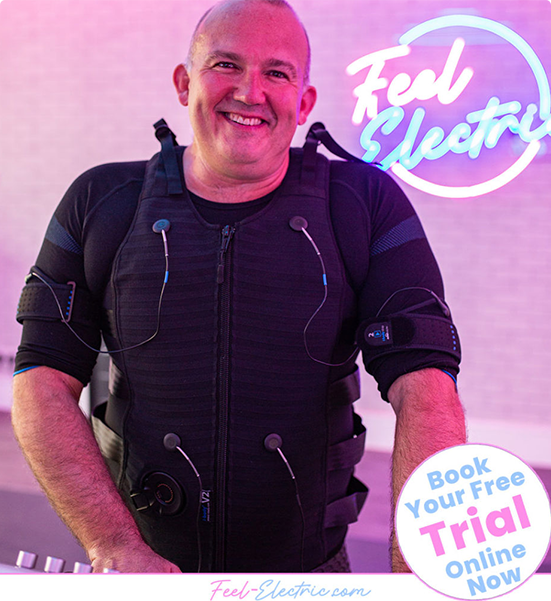 EMS Training is a fantastic alternative to physiotherapy treatments because EMS Training targets muscles and muscle groups to strengthen them and relieve pain fast.
Our Feel Electric studios delivers pain relief and injury recovery that works fast as a great alternative to physio. Whether you are recovering post-surgery or suffering from long-term back, joint or muscle pain Electro Muscle Stimulation (EMS) works and will accelerate your recovery.
Healthcare physios, osteopaths, and chiropractors have been using EMS therapy alongside physiotherapy techniques effectively for years in their rehabilitation and pain relief programmes. And that's for good reason. Using EMS training technology, you can take an active part in your injury rehabilitation and continue to work out while avoiding pain and strain in your body unlike visiting a Gym.
EMS Training focuses on restoring function and movement after surgery, illness or injury to deliver real healthcare results similar to physiotherapy treatments. Our EMS Trainers use medically certified Electro Muscle Stimulation technology to target over 95% of your muscle fibres in each training session to rejuvenate muscle strength overall.
Why EMS Training is a Great
Physio Alternative
Physical therapists like osteopaths, chiropractors and physiotherapists find EMS technology remarkably effective in treating their healthcare patients who would ordinarily need physio. Let's look at why they use EMS as an alternative to physiotherapy treatment to ensure improved wellbeing for their clients: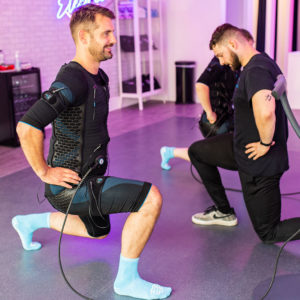 Physiotherapists: Electro Muscle Stimulation has been used for decades by physios in general practice and by physiotherapists at the highest level of sports. Why? Simply because EMS Training is a great alternative to physiotherapy treatments. EMS Training is a very effective way of focusing on specific muscle groups without worsening your injured muscles and joints or affecting your wellbeing and can be used as a great alternative to traditional Physio. Feel Electric EMS Training uses low-impact physical workout routines which anyone can do, plus also promotes healthy blood circulation which promotes nutrient transfer through your muscles to accelerate the recovery process. EMS Training technology can also be used to correct muscle imbalances to help you recover from injury or surgery quicker without putting any strain on your muscles or joints. If you are visiting a physiotherapist try EMS Training as an alternative treatment for Free.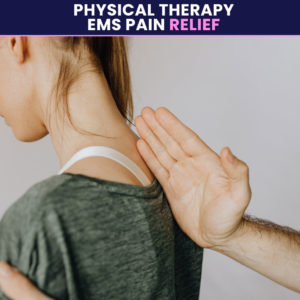 Osteopaths: Osteopaths look at the balance and wellbeing of your body to make sure that your bones, muscles and joints are working effectively together. That's why EMS Training is also a alternative to osteopaths. Electro Muscle Stimulation Technology allow our EMS Trainers to target and activate all your key muscle groups making sure you strengthen your body in a healthy and consistent manner without causing further injury. Each of our EMS Training programmes at a Feel Electric studio are low-impact and tailored to you so they never overstrain your muscles, joints and never overbalance your body making EMS a perfect alternative healthcare treatment to visiting an osteopath.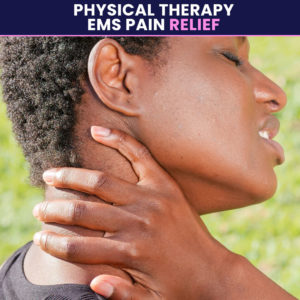 Chiropractors: Whatever sort of back pain or neck pain you're suffering from EMS Training is a powerful alternative to physiotherapy for improving your health and wellbeing. Chiropractors, who use their hands to help relieve problems with the bones, muscles and joints. EMS Training is similar by sending vibration like electrical impulses through in to your muscles to activate theme as if you we're working out or stretching. Electro Muscle Stimulation at Feel Electric works like physiotherapy to massage the muscles in the affected areas up to 85 times a second to help relieve pain in the back or neck and provide real wellbeing.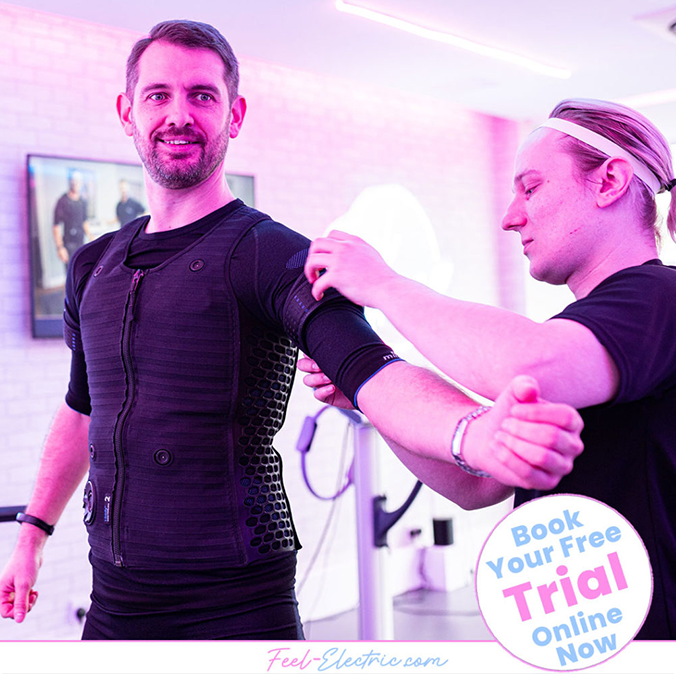 Faster Pain Relief with EMS Training
Working out when you're in pain or in recovery is impossible, right? With conventional exercise that's often the case but not with EMS Training at Feel Electric studios. As an alternative to Physiotherapy, EMS Training can target the affected muscle areas through physical exercise without putting any additional load on your muscles or joints.
Try EMS technology as an alternative to traditional physio to speed up your rehabilitation journey to better health and better pain relief as you recover. Whether you're suffering from surgery, back, neck, shoulder, hip or joint pain, recovering from injury is faster with the advanced technology of our EMS Training.
With Electro Muscle Stimulation at Feel Electric studios, you won't put any strain on joints, tendons, or ligaments but you'll benefit from faster pain relief than traditional physiotherapy.
EMS Training Allows Active Rehabilitation from Injury
If you want to actively recover from an injury, deal with a long-term pain problem like lower back pain or improve your physical and mental wellbeing, always think EMS Training for rehabilitation as a great physiotherapy alternative. (EMS) Electro Muscle Stimulation routine is delivered as a low impact routine that anyone can do, it helps towards a faster and healthy recovery from injury while relieving pain.
Feel Electric EMS Trainers will talk through your rehabilitation goals and then deliver a tailored EMS Training Programme on the target muscle groups which are weaker or recovering from injury. This will reactivate those muscles to aid a faster healthy recovery.
EMS Training will also strengthen those muscle areas allowing you to avoid future healthcare injuries and pain similar to how physiotherapy would by massaging muscles, EMS Training does this through an alternative process and uses technology. A Feel Electric EMS rehabilitation programme, you'll activate over 95% of your muscles fibres to gain relief from pain without overstraining your joints and muscles in a alternative way to traditional physiotherapy treatments.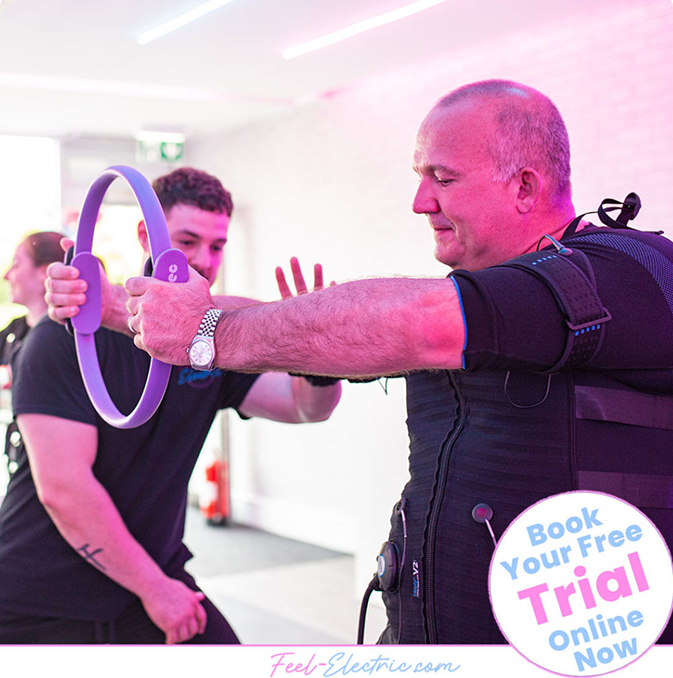 Bounce Back from Sporting Injury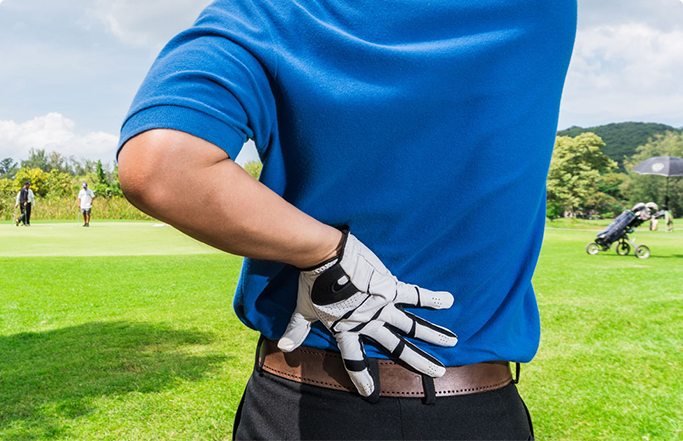 If you've hurt your back playing sports think EMS physio rehabilitation. Electrical Muscle Stimulation technology has been used by sports physios to treat athletes for many years as it puts little strain on your body and allows safe workouts even when you're suffering from a back sports injury.
The effectiveness of EMS training for physio back rehab has been used by sports people of the calibre of Ronaldo and David Haye as well as celebrated sports teams like Bayern Munch.
Thankfully, you don't have to be a professional athlete to benefit from an EMS back pain improvement session. Each EMS session only lasts 20 minutes and is low impact but is the equivalent of a 2-hour HIIT session that activates over 90% of your muscles including your back muscles. If you're feeling the pain of a back sports injury you can accelerate your recovery with an EMS workout at Feel Electric.
EMS Personal Training for Back Pain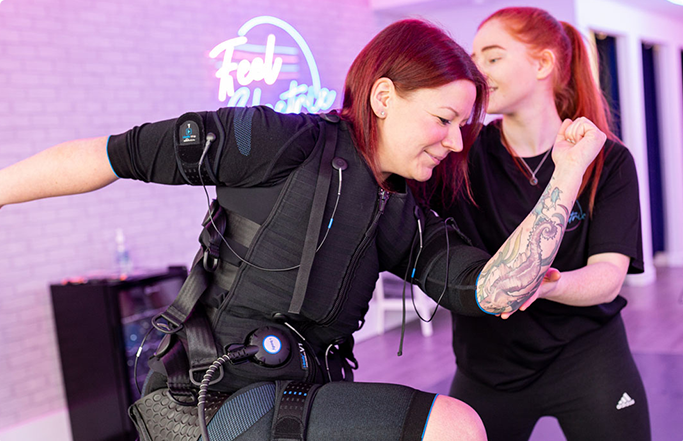 Recovering from back pain or from a back sporting injury can feel like a lonely process but not with the EMS Personal Trainers at Feel Electric. Our PTs will help you to rehab quickly and safely after a back injury or if you're dealing with sciatica in your lower back.
Scientific studies have shown that low impact EMS training can also help rehabilitation after back surgery. Our expert EMS personal trainers will work with you to strengthen your lower back muscles and accelerate the back injury recovery process without risking muscle or joint strain.
From The
EMS Fitness Blog
Only the latest news from us, stay tuned.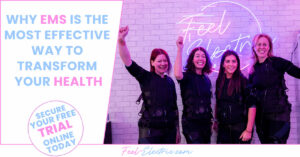 EMS – Effective Health Treatments for Every Body Getting fit or recovering your health when you're older or carrying excess weight can be daunting. Thoughts
Read More »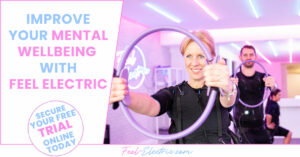 Put EMS at the Core of Your Mental Wellbeing The last few years have been difficult for everyone with our collective mental health taking a
Read More »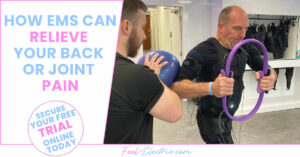 How EMS can Relieve Your Back or Joint Pain Suffering from long-term pain is not to be wished on anyone. Unfortunately, many of us suffer
Read More »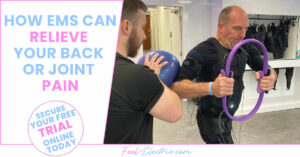 How EMS can Relieve Your Back or Joint Pain Suffering from long-term pain is not to be wished on anyone. Unfortunately, many of us suffer
Read More »
Feel Inspired by Feel Electric EMS
If just one 20-minute EMS session a week at Feel Electric studios equals a 2-hour HIIT session, what are you waiting for? There's only one way to feel the true power of EMS training and that's to try it for yourself! Book a
Free EMS Trial Online
to Tone, Firm and Lose Weight with EMS Training.